Silver Inlay Coils & Components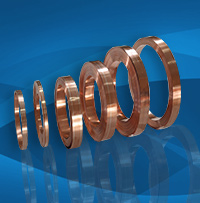 Telcon Bimetals is a pre-eminent name in the electrical industry for silver inlay strips and components. For the past decade we have an ultra-modern continuous automatic German plant for Cold Cladding of silver and silver alloys on Copper and Brass strips. We at Telcon Bimetals are involved in providing premium quality range of Silver Inlay and Overlay products. The bond between the Silver /Silver alloy with backing material of Copper or Brass has very strong mechanical and thermal properties.
From the Management to our engineers and workforce have been closely attached to the electrical industry for many years now and have gained valuable understanding and experience of the functional aspect of Silver Inlay components. Our team is innovative in accepting new challenges of design and requirements to enhance the functional abilities with reduced product cost. We have achieved success in bonding silver layer as thin as 0.02mm (20 microns only) for lower ratings of Electrical / Switchgear products.
Enriched with vast industry know how, we have complete capability and capacity to cater to all the needs and requirements of the current market of Silver Inlay strips and components. To further enhance our innovations, we pioneered bonding of silver on Copper Clad strips ensuring high performance and cost effective contacts. We are the first in India to develop Copper Inlay CRC / Steel strips as a low cost substitute for plain Copper contacts.