About Us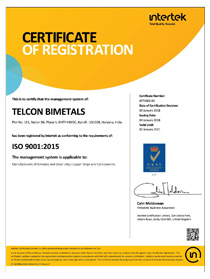 We incorporated in the year 1982, Telcon Bimetals specializes in manufacturing the most comprehensive and wide range of raw materials and precision components for the Electrical and Switchgear industry that meets the global standards of quality and performance.
 
Telcon Bimetals is an ISO 9001:2015 and ISO 14001:2015 certified company which has adapted all modern quality check systems as a part of its manufacturing process, thereby making it a single supplier to many prestigious OEMs.
The manufacturing capabilities include Inlay and Overlay strips with Silver and Silver Alloys Bonded / Cladded to the base metal Copper or Brass and press stamped components from these strips.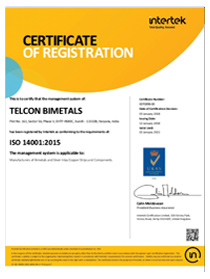 Telcon Bimetals is managed by a team of dynamic and well qualified Engineering graduates having in-depth technical knowledge and experience of working at the workshop level as well as administrative levels to provide solutions for today's market demands. Besides we have a well- equipped Quality and R & D department being supervised by well-trained technocrats. Our quality department has the most advanced measuring equipment like Micro Hardness Tester, Conductivity Meter, Resistivity Meter, Vision Measuring System along with various other digital measuring instruments and gauges.
Telcon Bimetals also manufactures Bimetal/Trimetal strips and components using the worlds most advanced and innovative Cold Clad German technology to meet our customer's requirements and specifications.